AGENCY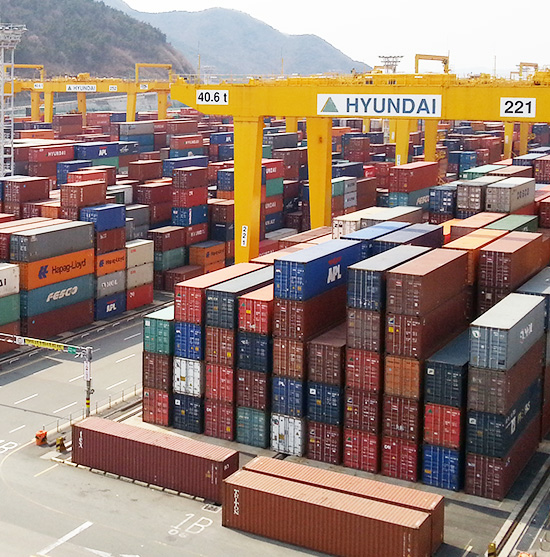 Do you need someone who represents your interests in Korea? Then look no further. We have been acting as agents for shipping lines, NVOCC and equipment leasing companies since 1994.

With over 20 years of experience, we have been able to accumulate vast expertise and know-how in the field, which we employ to your benefit.


We are proud to represent the following companies in Korea – each a recognized industry leader:
• Harbour-Link Line Sdn. Bhd.
• NileDutch Africa Line
• EXSIF Worldwide
• Sarjak Container Lines
• Suttons Group
• Touax Global Container Solutions
Contact
NileDutch
Harbour Link
Harbour-Link Line is a top 100 carrier, and a major regional player in Asia, focusing on connecting North and South East Asia with a fleet of around 20 vessels and over 10,000 TEU. One specialty of Harbour-Link Line is serving ports in East Malaysia and Brunei.

We offer the regular full container service with the shortest transit time from Korea to East Malaysia
Find out more about Harbour-Link Line

EXSIF
EXSIF is the world's largest tank container lessor. EXSIF has a highly diversified fleet, suitable for a wide range of liquid and gaseous substances. We are proud to be part of their global network of tank experts.

In Korea we offer a wide range of tanks under different leasing conditions tailored to your needs – various capacities (10kl to 26kl), gas tanks, internal lining, baffled tanks, and many more.
Find out more about EXSIF

Touax Container
TOUAX Global Container Services is a leading global player in leasing and trading solutions with a fleet of high standard dry van containers. TOUAX has a global network of more than 200 strategically located depots, through which they provide the shipping, logistics and industrial markets with leasing as well as trading solutions of brand new and active containers.

In Korea we offer an assortment of bespoke leasing options to you: Short or long term, one-way, financial leasing, buying options, and framework agreements.

Find out more about Touax Container

Suttons
Suttons is a world class bulk logistics provider, and one of the world's leading specialist logistics and supply chain companies. Suttons owns a fleet of highly sophisticated ISO tank containers which are used to transport chemicals, gases and mineral oils for most of the largest manufacturers around the world. Suttons has been a logistics service provider for over 80 years.

Kukbo's Suttons team in Korea offers you a full range of tank container solutions to worldwide destinations: One-way, round, and managed - with fitting tanks in accordance to your requirements.

Find out more about Suttons Group

Global Feeder Shipping
Global Feeder Services (GFS) was established to serve the liner industry and is the combination of over 30 years of experience in container feeder operations throughout the Middle East, Asia and Africa. GFS goal is to serve the container industry's biggest names through an integrated network of services connecting major shipping hubs to their surrounding markets.

GFS priority is the continuous improvement of services, systems and processes to empower clients to continue serving global trade.

We have regular feeder operations from Korea into ports in the Middle East.
Find out more about Global Feeder Service